Life Assessment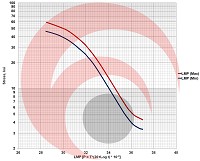 In the normal service life of a Superheater, failure usually occurs by a creep or stress-rupture mechanism. DNFM is able to evaluate remaining tube life of your superheater or reheater tubes.
Life assessment includes the following engineering services:
Microstructural characterization

Dimensional and hardness measurements

Estimation of operating temperature and design temperature

Calculation of operating stresses

Larson-Miller parameter (LMP) evaluation and Plotting the operating stresses and LMP on pre-defined curves.